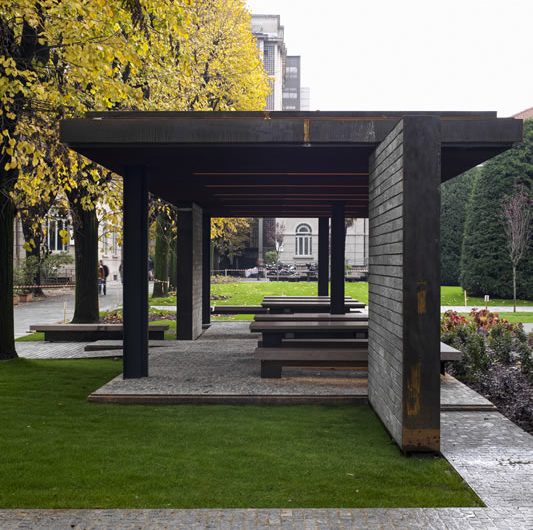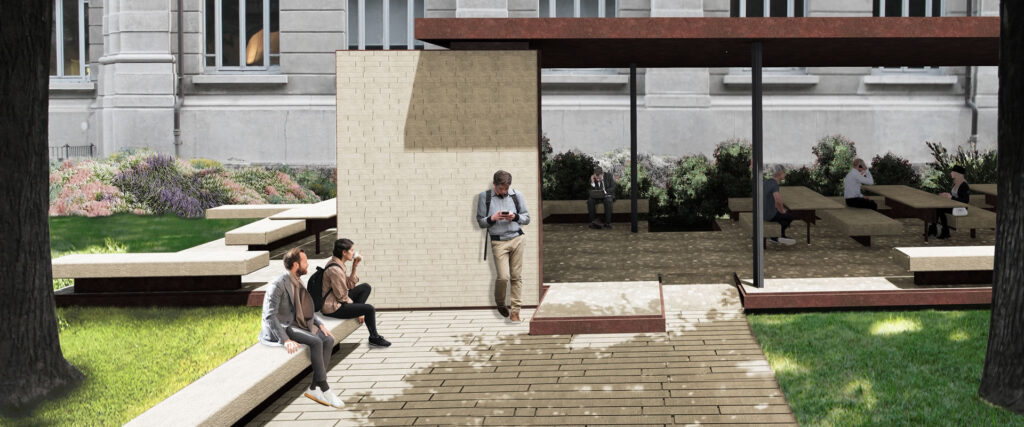 The intervention has the purpose of recovering and enhancing the historical heritage of the campus, creating formal order and architectural/environmental quality, with specific reference to the central natural green area adjacent to the Rectory and its avenues lined with trees.
The primary objective is to guarantee the best use and maximum pedestrian viability in the space, making it easier to use by eliminating approximately 105 car parking spaces, which over time have invaded the area: in the scope of sustainability and regeneration, the project is designed to structure the open spaces on the campus to respond to how the space is actually used daily by the people who inhabit it.
Intense use, new functional and technological needs, and the opening of the auto park altered both the spaces and paving materials. The elimination of the trafficable passage inside of the open spaces in the Campus, a source of noise, pollution and hazard, the true transformational element in the context, was the incipient idea driving the project.
The sustainability of the project was then interpreted by prioritizing continuous natural green areas, expanding their size and rendering them useable both informally and in several detached equipped islands. These spaces are equipped with wired break tables and seats, with stone bases and corten steel support frames.
The two islands to the northeast and south of the Rectory are fitted with roofing for use during the sunniest seasons and rain; the equipped area in the garden in front of the "Giulio Natta" Department of Chemistry, Materials and Chemical Engineering, without any roofing, is dedicated to use during the milder seasons. The project offers a reinterpretation of the spatial system without interfering with the original planning project, addressing the needs of a Campus lived intensely by students and people in general.
The project includes renovation of the tree-lined avenues in Luserna stone, creating a more harmonious environment in the historical context in respect to the previous cement pavement, in order to reach a complete pedestrian use.
Credits
Project Name
Giardino di Leonardo
Place
Campus Leonardo, Milano
Scientific Coordinator
Prof. Emilio Faroldi, Vice Rector Delegate, Politecnico di Milano
Project Scientific Committee
Prof. Stefano Capolongo, Politecnico di Milano,
Prof. Franco Infussi Politecnico di Milano,
Prof.ssa Laura Elisabetta Malighetti, Politecnico di Milano,
Prof. Eugenio Morello, Politecnico di Milano,
Prof. Alessandro Perego, Politecnico di Milano,
Prof.ssa Tiziana Poli, Politecnico di Milano,
Prof. Michele Ugolini (Referente del progetto), Politecnico di Milano,
Arch. Matteo Cervini Politecnico di Milano, Vivi.Polimi.Lab,
Arch. Giuseppe Mondini (Referente del progetto), Politecnico di Milano, Vivi.Polimi.Lab,
Arch. Paolo Raffaglio, Politecnico di Milano, Vivi.Polimi.Lab
Partners
ATE – Conservation and Building Services
Photos
Prof. Marco Ausano Introini
Project
2017-19
Realization
2019
---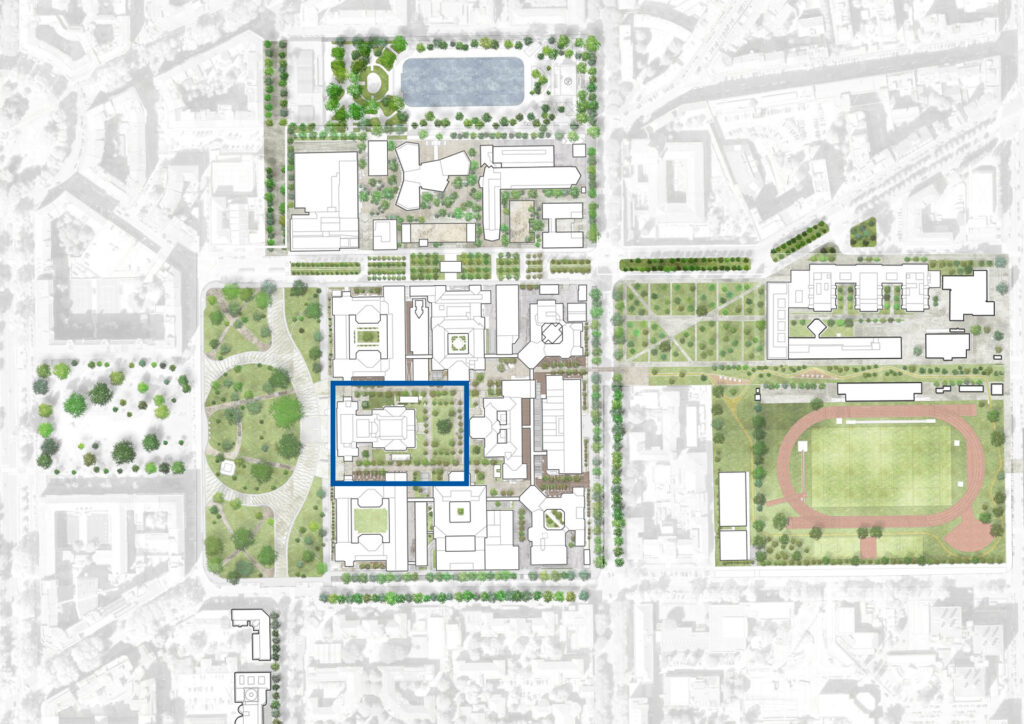 ---
Gallery
---
The project by number
---
Previously
---